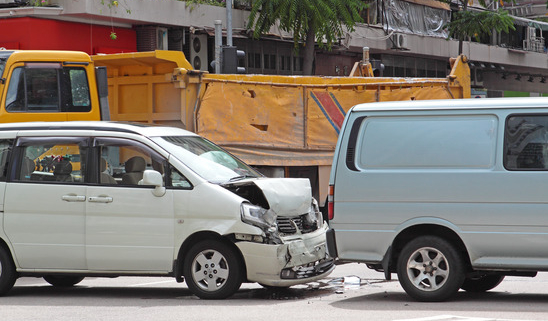 Rear enders are the most common type of car accident in Utah and the United States. Every year there are 2.5 million car crashes in the country, and 28% of all of them are rear-enders. If you've spent enough time in your life driving, you won't find that fact surprising. 
Common injuries from rear-end accidents include: 
Neck injuries

Head injuries like concussions, contusions, or hemorrhages. 

Back or spine injuries

Broken bones

Torn ligaments in neck or shoulder
If you were rear-ended and are now dealing with a head injury, you are likely entitled to compensation. Get in touch with Truman and Radford, Injury Attorneys today to see what your options are. Truman and Radford are seasoned Utah personal injury lawyers who have maximizing results for clients for over three decades. 
Who is responsible for a rear-ender? 
If you've been hit from behind in your car, the good news for you is that almost every single time, the person who hit the other car from behind is responsible for the crash and is liable for damages. 
The main thing for your case (or any car accident for that matter) is to prove beyond a reasonable doubt that the other person was negligent in some way. This could be done by proving that the driver: 
Failed to stop or see your car 

Was driving recklessly, perhaps speeding or needlessly swerving

Was tailgating you

Didn't yield to the right of way.

Was impaired by drugs, alcohol, or medication. 

Was distracted by something, like a phone, map, or something else in their car
Certain situations can be more subjective than others and the driver who hit you may be willing to argue that they weren't at fault. This is where having a lawyer on your side helps immensely so that you don't get taken advantage of. 
Compensation can come in the form of: 
Loss of wages: If you've been

injured

to the point where you can't work for a prolonged period of time, or perhaps permanently, then you deserve to be compensated for the wages you will miss out on.

Non-Economic Damages: Head injuries are one of the more life-altering, painful, and stressful injuries to go through. You may be entitled to pain and suffering or mental anguish damages. 

Medical costs: These can be surgeries, medication, rehabilitation, therapy, medical equipment, and any other future visits to the doctor. It's important to have an elaborate medical assessment so you don't miss anything. Never underestimate the costs of a head injury. 
Do you need legal assistance with your head injury from a car accident? 
Get in contact with Truman and Radford right away. With qualified Utah personal injury lawyers like them in your corner, you won't have to worry about being left behind by the justice system.
Truman & Radford, Injury Attorneys
Tel: 435-692-9000
20 North Main Street, #309
St. George, Utah
https://onlinelawyernetwork.com/wp-content/uploads/2021/03/photodune-1440882-car-accident-xs.jpg
365
548
efigueira
https://onlinelawyernetwork.com/wp-content/uploads/2020/08/logo.png
efigueira
2021-03-25 13:35:19
2022-08-19 14:46:11
 Injured In a Rear-Ender, Can I get Compensation?