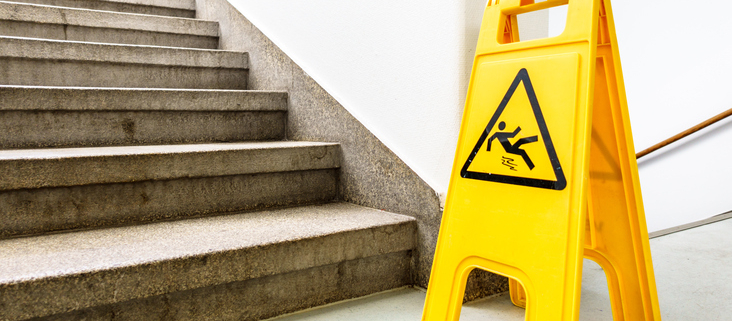 Slip and fall accidents are some of the most common personal injury incidents. Yet, their daily occurrence doesn't mean they garner as much attention as car accidents or medical malpractice cases, because the truth is that they are often seen as lower risk and are therefore treated as insignificant or not as critical. Nevertheless, those who have experienced slip and fall accidents know that that certainly isn't the case. In fact, slip and fall victims can suffer serious injuries such as major sprains, fractures and concussions. If you or someone you know has recently been in a slip and fall accident at a commercial property due to the negligence of another party, we suggest you reach out to a seasoned personal injury attorney in Omaha, Nebraska. 
The Grave Consequences of a Slip & Fall Injury 
According to the Centers for Disease Control and Prevention, "Many falls do not cause injuries. But one out of five falls does cause a serious injury such as a broken bone or a head injury. These injuries can make it hard for a person to get around, do everyday activities, or live on their own. Falls can cause head injuries. These can be very serious, especially if the person is taking certain medicines (like blood thinners). Many people who fall, even if they're not injured, become afraid of falling. This fear may cause a person to cut down on their everyday activities." 
Along with the physical wounds associated with slip and fall incidents, there are psychological injuries victims are often exposed to. Most common among personal injury sufferers is post-traumatic stress disorder. Per the National Alliance of Mental Illness also known as NAMI, "traumatic events—such as an accident, assault, military combat or natural disaster—can have lasting effects on a person's mental health. While many people will have short term responses to life-threatening events, some will develop longer term symptoms that can lead to a diagnosis of Posttraumatic Stress Disorder (PTSD." This condition just like any physical injuries the victim may have sustained could require continuous and possibly costly treatment. However, if an attorney can prove that the incident was caused by the negligent behavior of another party, there's a chance they will have to cover all medical expenses and any other costs associated with the accident. 
How Can a Personal Injury Attorney Help You Pursue a Slip and Fall Injury Claim? 
To succeed in a slip and fall injury claim, you must establish the liability of the property owner. To do so, you will need to secure evidence surrounding the incident and present an unwavering case. If you are in the process of pursuing a slip and fall injury claim but need an attorney to evaluate your case and represent you in the legal setting, we suggest reaching out to a personal injury attorney in Omaha, Nebraska at Rensch & Rensch. 
Rensch & Rensch Law can be reached at:
Omaha Law Office
7602 Pacific Street, #102
Omaha, NE 68114
Phone: 800-471-4100
Website: www.renschandrensch.com
Columbus Law Office
1470 25th Avenue
Columbus, NE 68601
https://onlinelawyernetwork.com/wp-content/uploads/2021/04/iStock-962920912.jpg
477
732
damg16
https://onlinelawyernetwork.com/wp-content/uploads/2020/08/logo.png
damg16
2021-07-08 14:38:30
2021-07-08 14:38:30
Slip and Fall Accident? Contact a Personal Injury Attorney in Omaha, Nebraska