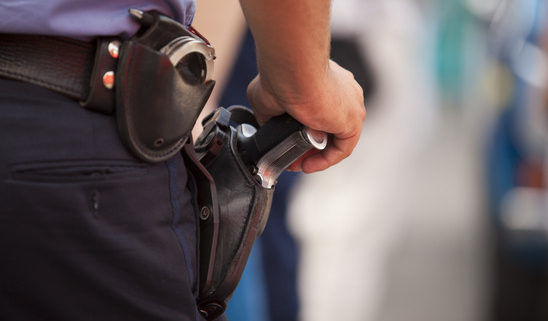 A badge and a gun do not give police officers the right to unjustly arrest, injure, or harm someone. Police officers have to work within a set of standards on the job. If they go outside of them, they may have to face legal consequences. 
Each one of us has constitutional rights that anyone working under the authority of the state must respect. The Civil Rights Act of 1871 and its Section 1983 prohibits police officers and all state agents from depriving a citizen of their constitutional rights. 
Were you wrongfully arrested or brutalized by a police officer in White Plains, New York? If so, you may be entitled to compensation under the law. Get in touch with Darren DeUrso to see what your legal options are. Darren is a long-time veteran of criminal defense and specializes in defending people who are being taken advantage of by the justice system. With Darren on your side, you can seriously increase your chances of a positive legal outcome. 
What are the laws on false arrest? 
A false arrest is defined as the detention or restraint of someone by an officer who is acting outside of lawful justification. These lawful justifications might include probable cause, a valid arrest warrant, or consent. A false arrest, otherwise known as false imprisonment, may be legally defined as a misdemeanor offense. 
A false arrest or imprisonment violates the 4th Amendment of the United States Constitution which prohibits unreasonable search and seizure. The keyword here is "unreasonable." Unfortunately, this term is subjective and based on the specific circumstances of the incident. For example, if police receive reports of a "tall Asian man with a yellow hat and red shoes," and you happen to be a tall Asian man wearing a yellow hat and red shoes who is exactly in the spot that the police are looking in, then the courts may decide that your arrest was not wrongful based on the information that the police had at the time. 
However, if there is no evidence that you match the description of any suspect, and you weren't acting suspicious or committing any crime, then it may be determined that the police were in fact acting in an "unreasonable" manner. 
Some other common police misconduct lawsuits are: 
Excessive use of force

Coercion 

Bribery

Sexual assault

Racial profiling

Searching cars or homes without a warrant
Compensation in police brutality lawsuits can yield anywhere from a few thousand dollars to a few million. Generally speaking the more severe the damages caused by the misconduct, the more compensation a plaintiff is entitled to. 
Were you a victim of police brutality or wrongful arrest? 
Get in touch with Darren DeUrso, Attorney at Law today to explore your legal options and get you the results you deserve. 
Darren DeUrso, Attorney at Law
188 East Post Road, Suite 300
White Plains, NY 10601
Phone: (914) 772-8614
https://onlinelawyernetwork.com/wp-content/uploads/2021/04/photodune-4968064-police-officer-xs.jpg
365
548
efigueira
https://onlinelawyernetwork.com/wp-content/uploads/2020/08/logo.png
efigueira
2021-04-02 13:24:06
2021-04-02 13:24:06
False Arrest and Police Brutality in White Plains, New York: What Are My Rights?